HOME HEALTH CARE
Where to Begin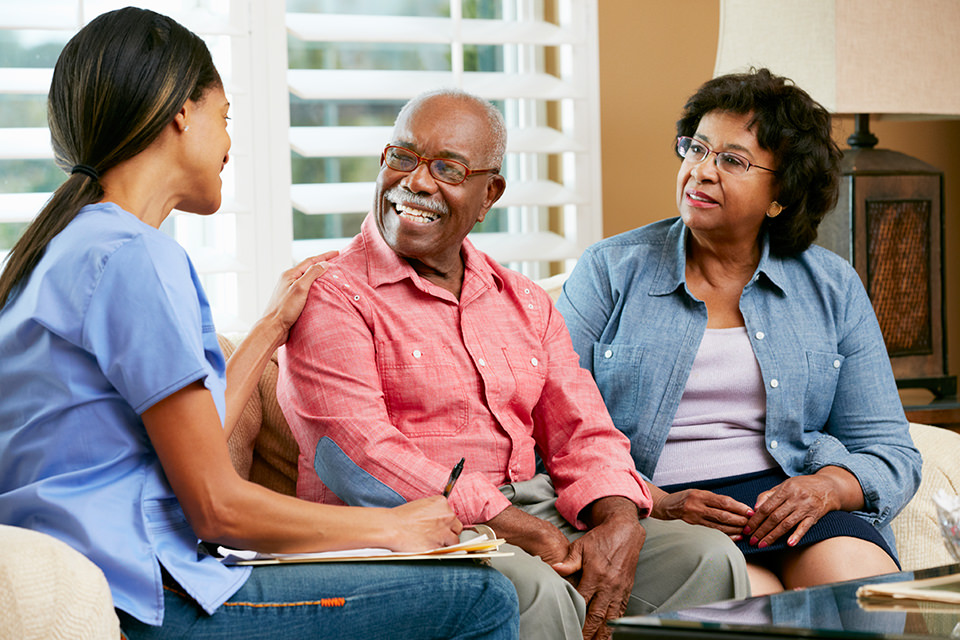 Getting Started With Home Health Care
We understand the challenges of navigating the care decisions of yourself or a loved one.  Where do I begin?  How does home care work?  What support is available to me and my family?
FirstChoice is here to answer your questions.  We want to help you better understand your health care options and determine which avenue to take.
What is Home Health Care?
Skilled home care would include nursing, therapy and other services, along with empowerment and support for patients and caregivers, to help people recover, regain their independence and be safe at home.
Non-skilled home care (non-clinical services) would include assistance with daily living tasks, such as bathing, dressing, and light housekeeping, in order to help people remain safe, independent and empowered at home.
Who is home care for?
For people with skilled needs – Those who are returning home from a hospital stay, an orthopedic surgery, managing a serious or chronic disease, or dealing with multiple diagnoses.
For people with non-skilled needs – Those who need additional support for living at home and performing daily tasks.
When Do I Know It's Time For Home Care?
Naturally, making the right decision for the care of a loved one is an important decision. Home care is often a viable solution. This process begins with a careful evaluation of the patient's unique and specific needs.
Home care generally falls into two categories: Skilled care and personal care. Skilled care is medical care provided by nurses, therapists (physical, occupational, and/or speech), and/or social services ordered by a physician. Skilled care is typically paid for by Medicare, Medicaid, private insurance, or private pay. Custodial care, on the other hand, is care provided by home health aides to assist with activities of daily living, such as bathing, dressing, and light cleaning. Custodial care is typically paid for through private pay or community waiver programs. FirstChoice can help you verify your benefits and coordinate coverage and billing options.
Home care might be an appropriate solution if your loved one is experiencing:
A new or chronic illness
Hospitalization or surgery and requiring recovery and healing
Anxiety, fear or other feelings that come with illness
A new health care diagnosis requiring a change in daily lifestyle
FirstChoice can help you decide if home care is right for you and your loved one. FirstChoice always makes family involvement and input a top priority. We want you to feel comfortable with the recommended services and feel confident that all of your loved one's needs are being met.
Contact a local FirstChoice office in your area to see if FirstChoice is the right choice.  To view your nearest location click here.
What types of services are provided?
Skilled nursing
Physical therapy
Speech therapy
Occupational therapy
Social worker services
Home health aides
Specialty rehabilitation programs – Orthopedic & Neurology
Chronic care programs – Diabetes
Specialized care for Dementia and Alzheimer's
Infusion therapy programs
Live-in care
24-hour care
Companions/homemakers
Caregiver respite
Chore services including laundry and light housekeeping
What are my next steps?
If you feel home health care is the right choice for you or a loved one, the next step is to talk with a FirstChoice home health care expert near you.
We will navigate you through the process and each decision along the way.
Give us a call at (800) 568-6216 or send us a message.
We want to be your FIRST choice.
For 20+ years, FirstChoice has been owned and operated by a dedicated group of experienced, Ohio-based professionals. We understand the well-documented benefits of allowing and empowering patients to recover at home, in the comfort of a familiar environment. We also know the complex and difficult issues interwoven into making those decisions. FirstChoice is the solution to dependable, caring and skilled quality home health care and a committed partner in the healthcare process.
Our Caregivers
We believe that our caregivers are the most important aspect of our service.  That is why we only look for people who possess a genuine enthusiasm for helping others.  Additionally, all of our field staff are licensed, bonded, insured, and underdo a background check and drug screening to ensure your safety and security.
Our Specialty Care Programs
We are particularly proud of our specialty care programs like our premier Journey Program.  This highly skilled multi-disciplinary team delivers comprehensive short-term intermittent home care to home-bound adults with behavioral and mental health diagnoses.
Our Experience
For 20+ years, FirstChoice has specialized in home health care and private duty services. Since 1998, we have earned an outstanding reputation by committing to core values that ensure integrity, customer service, and quality care.
Have a Question We Haven't Answered?
Free Consultation
Not sure how to begin the process? That's what we're here for. Give us a call or schedule a time to chat.
MyCare Plans Dual Eligible
MyCare Plans Dual Eligible
Free Consultation
Not sure how to begin the process? That's what we're here for. Give us a call or schedule a time to chat.